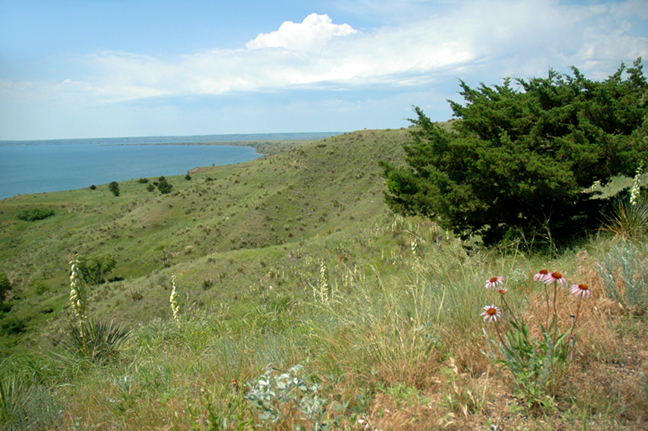 Narrows Interpretive Area Trail, Lower Brule Sioux Reservation


Immerse yourself in the vast, sweeping prairies of the Great Plains of South Dakota, the land of the buffalo! We are the Kul Wicasa Oyate (Lower Brule Sioux Tribe), a band of the Lakota Nation. We warmly welcome visitors to our homeland along Mni Sose, the Missouri River, a place of endless recreational and educational opportunities and unforgettable experiences!
The Native American Scenic Byway winds through the valley breaks and broad river terraces of the Reservation, now and then rising to the river bluffs, with their spectacular views of the Missouri and the vast grasslands that extend west over the horizon to the Black Hills.
The Buffalo Interpretive Center, on one of the Tribe's buffalo pastures along the Byway just seven miles southeast of Ft. Pierre, offers visitors a glimpse into the life and traditions of the Lakota people, past and present. The gift shop offers craft items made by local artisans.
The Reservation is rich in natural life. Pronghorn antelope, and mule and whitetail deer, roam freely, there are prairie dog towns scattered across the uplands and valleys, and the Tribe maintains a six square mile wildlife reserve for buffalo and elk. Pheasants, wild turkeys and other game birds are abundant, and Lake Sharpe, a Missouri River reservoir, teems with walleye and other fish. The river valley is a natural focus for migratory birds, with enormous flights of snow geese and Canada geese covering the skies in the spring and fall seasons.
The Visitor Information Center in the town of Lower Brule provides current information on attractions, activities and summer programs. The annual Lower Brule Fair, Powwow and Rodeo is a colorful, exciting, and highly recommended stop the second weekend in August.
Lower Brule Sioux Tribe Administration and Business Directory
Buffalo Interpretive Center - Golden Buffalo Casino